The credit crisis and recession has devastated small and mid-sized businesses (SME). Getting a bank loan or securing capital from investors is a big challenge for small businesses.

Banks have become extremely cautious in lending to small businesses. To be successful in securing credit you'll have to demonstrate that you are a good credit risk, that your company's prospects for growth are strong and that your business model is sound.

Credit|Redi is a set of business assessment apps that helps you improve and demonstrate your credit worthiness and communicate with bankers and investors why they should extend credit to your business.

Why Credit Score is important?

The quality of your credit rating and financial health form the basis for decisions other businesses make about you. Managing your business to improve your Credit Score will improve your company's financial health.

A strong Credit Score indicates good financial health and is used by lenders, capital providers, customers and suppliers to determine:

How much business credit a supplier will extend to you
What interest rates you will pay
How much money lending institutions will loan you
How your customers view you
What your insurance premiums will be
The level of potential investor interest


Report Package Includes:

Z Score Credit Assessments
Income Statements
Balance Sheets
Equity Reconciliation
Cash (Funds) Flow
Source & Application of Funds
Key Metrics / KPI's

Assessment Apps Include:

Product and Market Dynamics
Business Function/Operations
Critical Success Factors
Risk Assessment
Macroeconomic Event
ROI Calculator

Credit|Redi is a low cost on demand credit decisioning tool. It allows managers to analyze period specific financial data to generate on demand reports. Users define monthly, quarterly or annual periodicities for financial health trend analysis.

Credit|Redi allows managers to efficiently create quality financial health assessment reports ranging from two to five periods using annual, quarterly or monthly data.

Credit|Redi supports all global accounting conventions and currencies.

Sum2 partners with CreditAides to generate financial health assessment reports.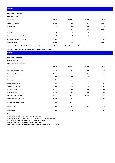 Click Here for Sample Reports
in PDF Format

Price: $15.00


Sum2, LLC
PO Box 665
Oakland, NJ 07436
201.919.7536

customer.service@sum2.com
© 2002-2017 Sum2 LLC, All Rights Reserved