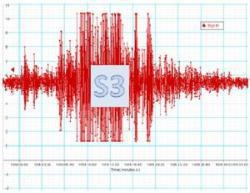 S3 SME Risk Seismograph

Survive and Thrive During Economic Adversity
Score Critical Risk Assessments for SME's
Discover answers / develop strategies
Mitigate Risk / Seize Opportunities


Wouldn't it be great if small businesses had an early warning machine like a seismograph that could detect the risks and spot emerging business opportunities well in advance? A machine that gives small businesses the lead time to adjust the course of the business to avoid a costly risk event or seize an opportunity shifting market conditions present?

SME Seismograph (S3) was developed to provide SME (Small Mid-Sized Enterprises) with tools to rapidly detect, adapt and overcome risks and to seize upon the opportunities surrounding you business.

S3 is an Excel based Office 365 / Mobile Office app providing SME managers world class enterprise risk management and opportunity discovery tools for growth and success.

S3 Features

Risk Factor Scoring
Opportunity Prioritization Ranking
Calculation of Capital Requirements
Enterprise View of Aggregated Risk

Assessment Applications:

Market Assessment
Product Risk
Customer Risk
Supply Chain
Competition
Market Dynamics

Business Assessment
Operations
Sales & Marketing
Management
Accounting
Facilities
Human Resources
Information Technology

Macro Risk Assessment
Critical Success Factors
Business Ratio
Business Plan
Macroeconomic Risk
STEEPLE

ROI Calculator
40 Page User Manual

Applications
Workout Planning Program
Initial Survey for New CEO
Preparation for Capital Raise
Credit Extension / Default Mitigation
Board of Directors Presentation
Shareholder Communications
Management Team Building
Risk Management Program
Strategic Alliance / Merger Review
Capital Allocation / ROI Assessment

Users Include: Small midsize business owners, C Level SME managers, account executive sales professionals, commercial loan specialists, bankers, credit unions, workout specialists, alternative finance providers, IT managers, HR consultants, sales managers, facilities managers, CPA's, private equity firms, business coaches, due diligence professionals

Android users require the use of Mobile Office. Mobile Office apps are available for download on Google Play. A PDF reader and a Zip File Manager are also required all widely available for no charge on Google Play. The S3 directs users to a Drop Box to pick up a zip file.

Sum2 does not collect or store any data entered into our Mobile Business apps. All data entry is done off line.

PRICE $3.00


PO Box 665
Oakland, NJ 07436
973.287.7535
customer.service@sum2.com
© 2002-2017 Sum2, LLC All Rights Reserved